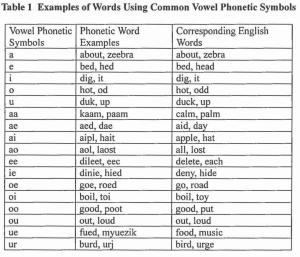 In re Wang (Fed. Cir. 2018) (nonprecedential)
In a non-precedential decision, the Federal Circuit has rejected George Wang's pro se appeal — affirming the PTAB judgment that Wang's claimed phonetic symbol system lacks eligibility under Section 101.
The baseline here is that the written english language is only quasi-phonetic. Every rule of spelling or pronunciation has layers of exceptions. Linguists have developed a phonetic pronunciation guides, but those use quirky non-english letters. Wang's invention here offers a one-to-one system tying each vowel and consonant sound to a single phonetic symbol, and uses only English letters for the phonetic symbols. Table 1 below comes from Wang's patent application and offers an example embodiment of his system:
The claim (slightly edited for clarity):
A phonetic symbol system comprising:
a plurality of phonetic symbols,
wherein each of said phonetic symbols is defined by one (or more than one) letter of English alphabet, the case or the style of said letter does not affect the sounds of said phonetic symbols,
[said phonetic symbols include] vowel phonetic symbols and consonant phonetic symbols . . . ,
each vowel [sound] is distinctively represented by one of said vowel phonetic symbols, and each consonant [sound] is distinctively represented by one of said consonant phonetic symbols.
Continue reading Phonetic Symbol System Not Patent Eligible at Patently-O.
Continue Reading ...