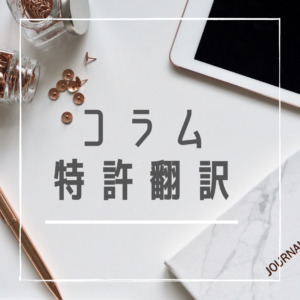 英文特許クレームにおいて、複数の類似の要素があり、それぞれが別々の類似の要素に対応しているとき、この対応関係をrespectiveやeachなどを使って表現するという手法があります。
以下のクレームを例に見てみます。
A computer-readable medium having encoded thereon a user interface for a computer system that causes the computer system to display multiple items of information in respective containers… .
https://patents.google.com/patent/US7694233B1/
このクレームにおいて、multiple itemsという複数の類似の要素があり、それぞれがcontainersという別々の類似の要素に対応しているとき、respectiveを使って"display multiple items of information in respective containers"と表現しています。
これにより、複数のitemの一つが複数のcontainerの一つに対応しているという「一対一の関係」が示唆されており、「一つのitemが一つのcontainerに表示される」と解釈される可能性が高い表現になっています(respective: "belonging separately to each of two or more people or things previously mentioned")。
respectiveの基本は以上の通り「一対一の関係」ですが、実際には、respectiveがこのように解釈されるかどうかは案件毎の事実関係によって異なるとされています。
Accent Packaging, Inc. v. Leggett & Platt, Inc., 707 F.3d 1318 (Fed. Cir. 2013)において、respectiveとeachを使った以下の表現について、「一対一の関係」とは異なる解釈がされています。
each of the operator bodies being operably coupled with a respective one of said gripper, knotter, cutting element and cover※
この表現をrespectiveが表す「一対一の関係」をもとに解釈すると、複数のoperator bodyの一つが、gripper、knotter、cutting element、coverのうちの一つに接続している(複数のoperator bodyの別の一つが、gripper、knotter、cutting element、coverのうちの別の一つに接続している)、になると思われます。respectiveの存在により、"coupled with one and only one of"というニュアンスが出ています。
これに対して、Federal Circuitは、実施形態において、複数のoperator bodyのうち二つのoperator bodyがknotterとcoverの両方に接続していることを重視して、上記"coupled with a respective one of"を"coupled with one or more"と解釈しています。このような解釈にあたり、Federal Circuitは、クレーム表現は原則として通常の意味をもって解釈されるものの、解釈にあたり明細書、実施形態を参考にすることもあると述べています。
Claim terms are generally given their ordinary meaning as understood by persons skilled in the art in question at the time of the invention. See Phillips v. AWH Corp., 415 F.3d 1303, 1312–13 (Fed.Cir.2005) (en banc). "The claims, of course, do not stand alone." Id. at 1315. "[T]he specification 'is always highly relevant to the claim construction analysis. Usually it is dispositive; it is the single best guide to the meaning of a disputed term.' " Id. (quoting Vitronics Corp. v. Conceptronic, Inc., 90 F.3d 1576, 1582 (Fed.Cir.1996)).

We have held that "a claim interpretation that excludes a preferred embodiment from the scope of the claim is rarely, if ever, correct." On–Line Techs., Inc. v. Bodenseewerk Perkin–Elmer GmbH, 386 F.3d 1133, 1138 (Fed.Cir.2004). 
翻訳者としては、翻訳の段階で実施形態を考慮して、"coupled with a respective one of"ではなく"coupled with one or more"とすることを提案するという対応が考えられます。
※:U.S. Patent No. 7,373,877
1. In a knotting device including a knotting assembly having a gripper for selectively gripping one of two adjacent wire sections, a rotatable knotter operable to twist-knot the two adjacent wire sections, a cutting element for cutting of the other of said adjacent wire sections after twist-knotting of the sections and a shiftable cover located adjacent said knotter for maintaining the wire sections within the knotter during feeding said twist-knotting and thereafter movable to a wire-clearing position permitting passage of the twist-knotted wire sections from the knotter, the improvement which comprises an operator assembly for timed operation of said gripper, knotter, cutting element and cover, and a single drive assembly coupled with said operator assembly for effecting said timed operation,
 
said operator assembly including a pivotal shaft assembly and elongated operator bodies, with each of the operator bodies being operably coupled with a respective one of said gripper, knotter, cutting element and cover so as to supply driving power from the single drive assembly thereto,
 
each of said operator bodies projecting radially from and being fixed to the shaft assembly such that rotational movement of the shaft assembly causes the operator bodies to swing about a shaft axis,
 
said shaft assembly effecting said timed operation by rotating in a single direction about the shaft axis,
 
each of said operator bodies including an interacting element associated therewith,
 
each of said interacting elements being drivingly connected to a respective one of the gripper, knotter, cutting element, and cover wherein swinging of the operator bodies in the single direction effects said timed operation.